Hello! I hope you had a fabulous festive break and had a good start to the new year!
If you're looking for ideas to give to a loved one, then do checkout the beautiful heart wax melt box, only £6.99 for 16 wax melts, take a look by clicking here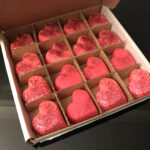 I finished supplying all of the orders from the Christmas period early January! Thank you all for bearing with me ! Such a fantastic amount of orders and new customers – I do so appreciate your continued interest and business.
So with 2 years done, here we go into my 3rd year on the Green Laurels journey. I'm so happy how things have developed. I'm at a point now where I can really share the benefits of how I have been able to increase production and diversify products!
I will be launching an exciting new subscription service! I alluded to this before Christmas and I am now in the planning stages for the launch of something that I'm sure will be a game changer for you if you like my products! More to follow. I think you will love the idea but I do value your feedback. I will post on my site in Feb with more details.
Stay safe and speak to you soon!